in
Uncategorized
by
magicadmin
|
Please Click "Don't Stop The Celebration!" for this month's Blog.
It is a great idea if you have made the commitment to come over to the Caribbean for your wedding as there is so much to offer. You would have gone through months of anticipation, cheap and travelled thousands of miles for your special day. Why not celebrate as much of the day as you can by recording your entire experience!
I have to be honest, cialis it was an idea that I was initially lukewarm to. I am all about recording the experience, so the thought of an extended multi stop portrait shoot was not exciting for me, but how was I wrong! This approach enhances your entire experience from beginning to end. You will be in a beautiful place and at a beautiful time in your life, why not experience it, and record it fully!
Lee & Jodi
Lee & Jodi who came in for their wedding from Quebec Canada, had an unforgettable day, which started at their Apartment in Atlantic Shores on the South coast of the island.


We had a short pre wedding stop at the rustic cliff top at Harry Smith on the South East coast of the island,

and then on to the ceremony at the spectacular Bottom Bay Beach, which was just about 5 minutes away from Harry Smith.

And then we hit the road again with a stop at the historic Codrington College, originally opened in 1745

& then onto the rugged, breathtaking Bathsheba coast


Finishing where else but at a local rum shop for a well deserved swig of Barbados's best brew and  one of its smooth aged rums!!
This is what you can call a wedding with swagger!
 Mikhail & Ekaterina
When you have travelled all of the way from Russia, you really want to make sure that you soak up the entire experience…and you deserve to!!!
Mikhail & Ekaterina started their incredible day at the picturesque Foul Bay Beach, as the sounds of the surf meshed perfectly with the melodies of  Caribbean steel pan.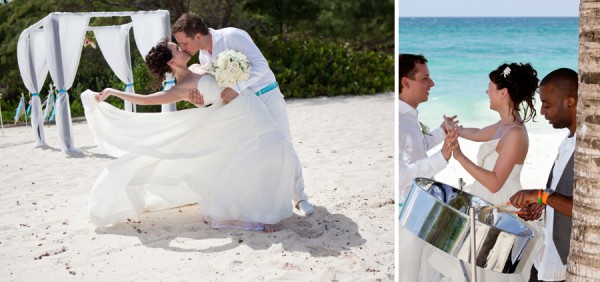 After the ceremony, they celebrated with cake & champagne at Foul Bay.  We stopped off at Harry Smith & Bottom Bay, on our way to boarding a catamaran, for a cruise along the island's west coast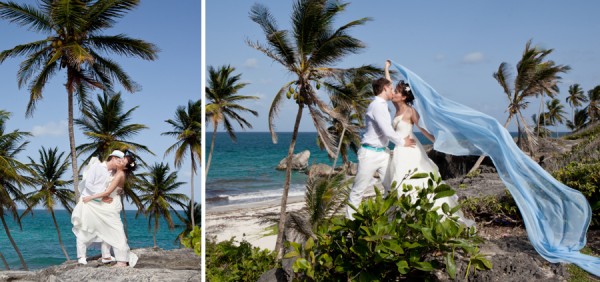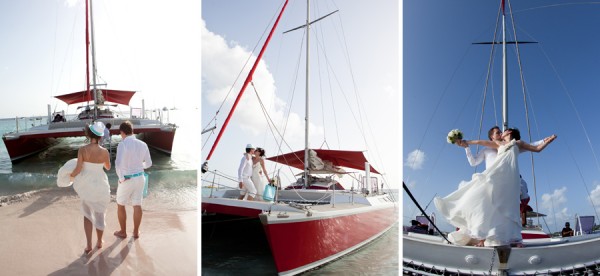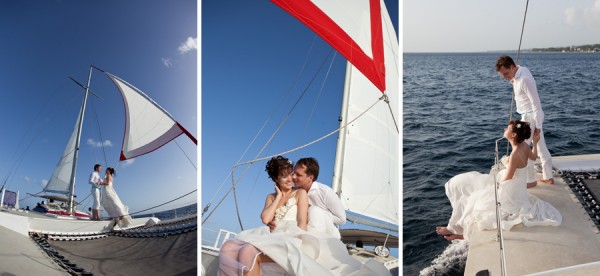 What better way to complete a magical day than dinner at one of the islands renowned restaurants- the world famous The Cliff Restaurant


This approach is a great option to consider. The key is to give yourself enough time, so that it is an experience, and not a photo shoot, and if I am privileged to be there, then I will surely help you enjoy the journey!
Also definitely look at having a wedding coordinator set up the day for you, so all the logistics are pulled together without you having to worry about a thing.
The Crane Resort
A very popular resort on its own, The Crane Resort is definitely a favorite for wedding couples. The resort which is spread over 40 acres, is located on the South East coast, about 10 minutes away from the island's international airport.  The resort sits on a cliff top, adjacent to the spectacular Crane Beach,  named as one of the 10 most beautiful beaches in the world by Lifestyles Of The Rich & Famous.
The strengths of a resort of this caliber, for your wedding celebration include
–          A spectacular location, that has elements that are dramatic , with a good mix of modern as well as rustic & historical elements
–          They offer a variety of locations for the ceremony, with several different spectacular vistas for dramatic photo memories
–          Established and experienced wedding,  catering and banquet services.
–          Great honeymoon location with spa services, to make the entire experience a memorable one
You can contact The Crane Resort at weddings@thecrane.com
Crane Historic Garden Wedding ceremony location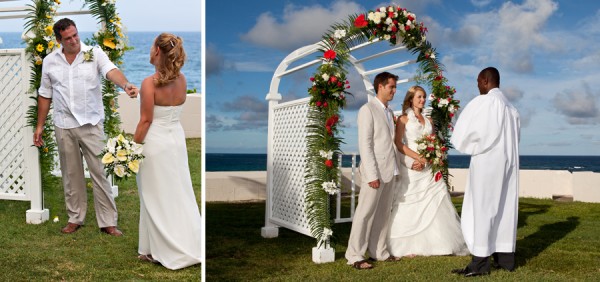 Crane Beach Weddings

Crane Cliff Top weddings

Crane Historic Pool deck & residences